CALIBRE 1300.3
https://www.fpjourne.com/en/collection/limited-series/automatique
FP Journe
https://www.fpjourne.com/en
FP Journe
Limited Series of 99 pieces
Exclusively available at F.P.Journe Boutiques and Espaces

Platinum case
Diameter: 40 mm
Overall height: 10.70 mm
Dial: 18K yellow Gold and guilloché Silver
Hands: blued Steel
Finishing

Limited Series of 99 pieces
Exclusively available at F.P.Journe Boutiques and Espaces

Platinum case
Diameter: 40 mm
Overall height: 10.70 mm
Dial: 18K yellow Gold and guilloché Silver
Hands: blued Steel
Technical Specifications
Movement :
F.P.Journe automatic calibre 1300.3 in rhodied Brass
Rotor in 22K 5N Gold, off centre and guilloché
Monodirectional winding
Dimensions :
Overall diameter :

34.60 mm

Casing-up diameter :

30.40 mm

Overall height :

5.95 mm

Height of winding system :

3.10 mm

Diameter of stem thread :

S1.20 mm
Indications :
Off centre hours – minutes – small second
Large date in aperture at 11h30
Power reserve at 8h30
Escapement :
Linear lever escapement 15 teeth
Balance :
Balance with four adjustable inertia weights
Anachron flat balance spring
Mobile stud holder
Free-sprung
Nivatronic laser soldered balance spring
Pinned GE stud
Slipping mainspring
Characteristics :
Instantaneous date change
Three position crown
Correction of the date, position 2, anti-clock wise,
Correction of the time, position 3
Amplitude  :
12 h dial up :

> 280°

90 h dial up :

> 220°
Finishing :
Graining on base plate
Circular Côtes de Genève on bridges
Rhodied base plate and bridges
Golden engravings
Polished screw heads with chamfered slots
Pegs with polished rounded ends
Steel components hand polished and chamfered
Number of parts :
Movement without dial :

260

Cased up on leather strap :

301

Jewels :

37
---
At the heart of the movement
Technical description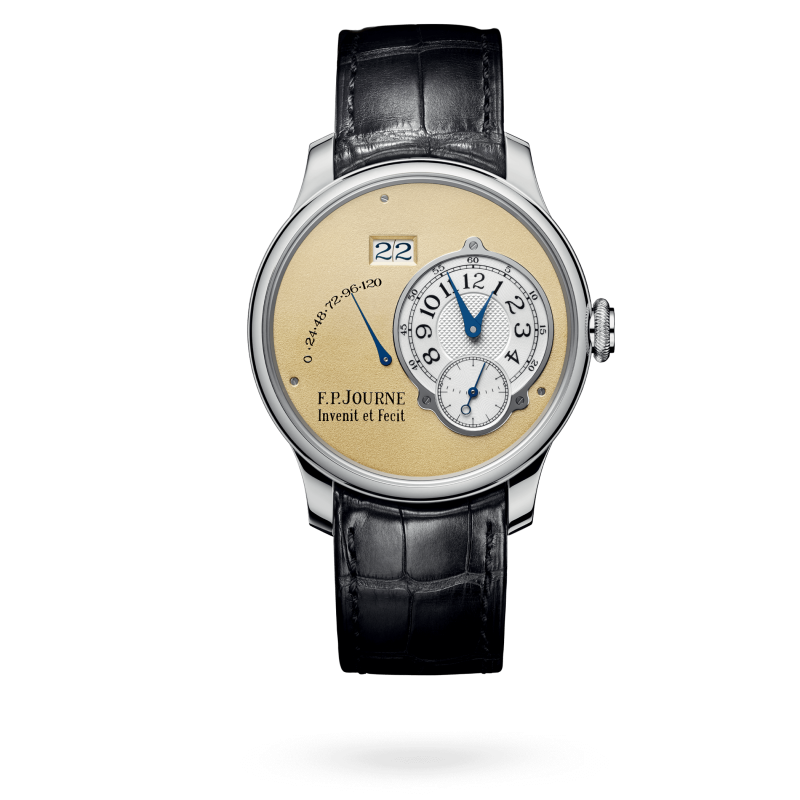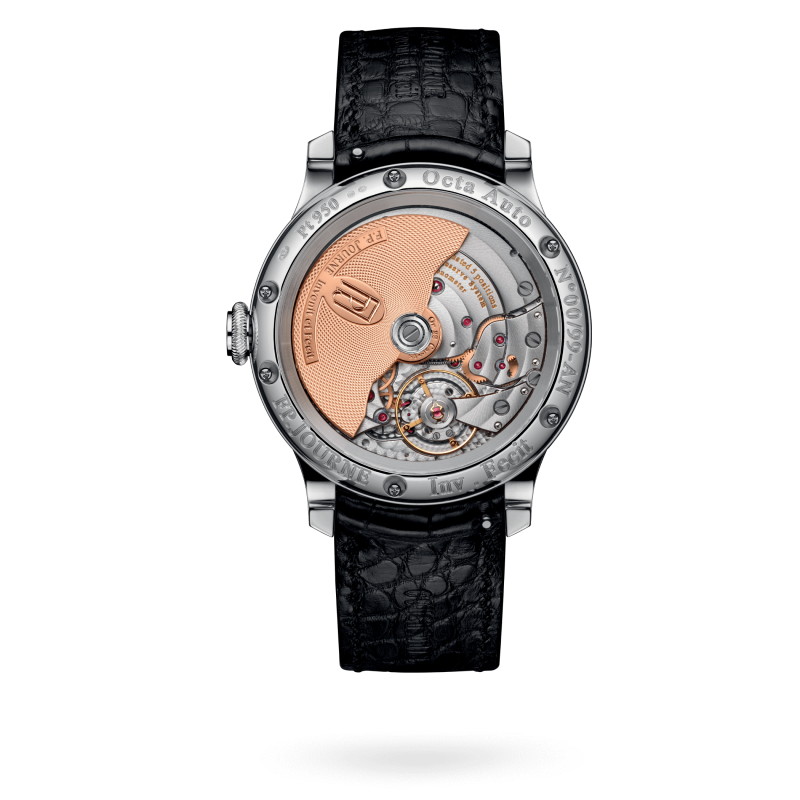 About
The presentation of the Octa automatic movement in 2001 has marked a turning point and proved that the watchmaking revolution of the 21st century was underway. Efficient in all respects, it has undergone only three evolutions during its 20 years of operation. The most recent one concerns the winding automation system. It has moved from bi-directional to unidirectional winding, which is more efficient to guarantee the rapid tensioning of the long spring of the barrel.
 
For François-Paul Journe, since the launch and minimal modifications, the Octa has proven its precision and endurance and as he states: "The Octa is an accomplished movement that requires no further modification due to its almost unreal performance".
 
To celebrate its 20th anniversary, F.P.Journe presents the Automatique in a limited series of 99 pieces, with, for those nostalgic of the early years, a case in Platinum of 40 mm powered with the calibre 1300.3 in rhodium-plated Brass, and a satin-finished dial in yellow Gold, similar to those produced in 2001 when François-Paul finished them by hand.
 
The power reserve indicator has been moved down slightly to leave more space for the enlarged date, displayed in a window now measuring 4.7 x 2.6 mm for easier legibility. The numerals of the hour and minute dial have also been enlarged. Only one slight aesthetical modification has been made to the movement, now decorated with openwork bridges.

François-Paul Journe has first given life to unique, then to small quantities of rare timepieces, and subsequently imagined and launched in 2001, a collection of watches in which the perfection of the automatic caliber called Octa, became an obvious attribute in a world where everything is in perpetual motion. He has thus perfectly materialized this obsession that embodies the lifelong obsession of mechanical geniuses to produce a perpetual movement.

Undoubtedly, the Octa collection is the signature of the perfection of a style imbued with the vision of the Masters of Enlightenment, of which François-Paul is the heir of the intellectual approach of the profession and its relation to the object. It is a central element of a watchmaking line with a strong sense of meaning for a Manufacture attached to sound values of authenticity, rarity and precision, in the respect of horological traditions, to become a lasting part of the future.
Testimony
CALIBRE OCTA
 
A HOROLOGICAL IDEAL
 
"THE CONSTRUCTION OF THE OCTA CALIBRE HAS LESS POWERFUL TIES WITH HOROLOGICAL HISTORY THAN DO THE CONSTANT-FORCE DEVICE OR RESONANCE MODELS, BUT IT SYMBOLISES AN HOROLOGICAL IDEAL OF GIVING TIMEKEEPERS THE HIGHEST POSSIBLE DEGREE OF PRECISION AND AUTONOMY!
 
ONE CAN INDEED NOTE THE FACT THAT IF CHURCH CLOCKS ARE PLACED SO HIGH, IN ADDITION TO ENHANCING VISIBILITY, IT WAS MOSTLY BECAUSE IT OFTEN TOOK AN ENTIRE MONTH FOR THE DRIVING-WEIGHTS TO DROP THE LENGTH OF THEIR CORDS. NUMEROUS SYSTEMS WERE INVENTED TO INCREASE THE OPERATING DURATION OF TIMEKEEPING DEVICES, MEETING WITH VARIOUS DEGREES OF SUCCESS. GIVEN THE SMALL VOLUME OF A WRISTWATCH, THE SIZE OF THE MAINSPRING WAS AUTOMATICALLY LIMITED. WATCHMAKERS THEREFORE DISCOVERED THE TRICK OF ADDING AN EXTRA WHEEL TO THE CUSTOMARY GEARTRAIN IN ORDER TO EXTEND THE DURATION OF ITS DEVELOPMENT. UNFORTUNATELY, ACTUALLY USING THIS SYSTEM, EVEN WITH A STRONGER SPRING, LED THEM TO OBSERVE THAT THE LEVEL OF ENERGY ACTUALLY REACHING THE BALANCE REMAINED LOW. TO COMPENSATE FOR THIS, THEY FITTED A SMALLER BALANCE USING LESS ENERGY, BUT WHICH WAS ALSO LESS STABLE. IT IS THEREFORE NOT UNUSUAL TO FIND THAT SOME WATCHES ABLE TO RUN FOR SEVERAL DAYS DISPLAY AN EXTREMELY UNPREDICTABLE LEVEL OF PRECISION.
 
THIS CHALLENGE WAS A POWERFUL SOURCE OF MOTIVATION! I THEN IMAGINED THAT THE BEST AND THE MOST OBVIOUS MEANS OF EXTENDING THE RUNNING DURATION WOULD BE TO EXTEND THE CAPACITY OF THE SPRING DEVELOPMENT. THE DIFFICULTY LAY IN INTEGRATING IT ON THE SAME LEVEL AS THE GEAR-TRAIN AND THE ESCAPEMENT, GIVEN ITS STABILITY: 1 METRE AND 1 MILLIMETRE THICK. THANKS TO THE LOW TORQUE OF THIS SPRING, I COULD ACHIEVE EXTREMELY FAST AUTOMATIC WINDING (ONE AND A HALF HOURS ON A CHAPPUIS CYCLOTEST FOR OVER 5 DAYS' RUNNING).
 
ONCE THE CHALLENGE OF AUTONOMY WAS THUS SUCCESSFULLY MET WITH THIS AUTOMATIC WINDING CALIBRE, I KNUCKLED DOWN TO THE SECOND CHALLENGE OF MANAGING TO INSERT VARIOUS COMPLICATIONS INTO THAT SAME MOVEMENT: POWER RESERVE WITH LARGE DATE DISPLAY, FLY-BACK CHRONOGRAPH WITH LARGE DATE DISPLAY, RETROGRADE ANNUAL CALENDAR, ETC… AND OF DOING SO WHILE MAINTAINING AN IDENTICAL SIZE FOR ALL MODELS.
 
THREE YEARS OF RESEARCH AND DEVELOPMENT WERE REQUIRED BEFORE THIS AUTOMATIC WINDING MOVEMENT THAT IS UNIQUE IN THE WORLD COULD BE PRESENTED TO THE PUBLIC."
 
FRANÇOIS-PAUL JOURNE

Technical Specifications
Movement :
F.P.Journe automatic calibre 1300.3 in rhodied Brass
Rotor in 22K 5N Gold, off centre and guilloché
Monodirectional winding
Dimensions :
Overall diameter :

34.60 mm

Casing-up diameter :

30.40 mm

Overall height :

5.95 mm

Height of winding system :

3.10 mm

Diameter of stem thread :

S1.20 mm
Indications :
Off centre hours – minutes – small second
Large date in aperture at 11h30
Power reserve at 8h30
Escapement :
Linear lever escapement 15 teeth
Balance :
Balance with four adjustable inertia weights
Anachron flat balance spring
Mobile stud holder
Free-sprung
Nivatronic laser soldered balance spring
Pinned GE stud
Slipping mainspring
Characteristics :
Instantaneous date change
Three position crown
Correction of the date, position 2, anti-clock wise,
Correction of the time, position 3
Amplitude  :
12 h dial up :

> 280°

90 h dial up :

> 220°
Finishing :
Graining on base plate
Circular Côtes de Genève on bridges
Rhodied base plate and bridges
Golden engravings
Polished screw heads with chamfered slots
Pegs with polished rounded ends
Steel components hand polished and chamfered
Number of parts :
Movement without dial :

260

Cased up on leather strap :

301

Jewels :

37
---
At the heart of the movement
Technical description