Vagabondage III Joaillerie
Calibre 1514
https://www.fpjourne.com/en/collection/jewellery-collection/vagabondage-iii-joaillerie
FP Journe
https://www.fpjourne.com/en
FP Journe
Digital Jumping Seconds

Manual winding
Limited series: 10 pieces
Platinum PT 950 pavé-set with 56 baguette diamonds for 6.44 carats
Clasp set with 18 baguette diamonds for 0.95 carat
Finishing

Digital Jumping Seconds

Manual winding
Limited series: 10 pieces
Platinum PT 950 pavé-set with 56 baguette diamonds for 6.44 carats
Clasp set with 18 baguette diamonds for 0.95 carat
Calibre 1514
Technical Specifications
Dimensions :
Overall diameter :

29.3 x 28.2 mm

Encasing dimensions :

29.3 x 28.2 mm

Overall height :

5.88 mm

Height of winding system :

2.96 mm

Diameter of stem thread :

S0.90 mm
Balance :
Four inertia weights
Flat Anachron micro flamed spring
Mobile stud holders
Free sprung
Nivatronic laser-welded to collet
Pinned GE stud
Amplitude :
0h dial up: 250°
24h dial up: 250°
Characteristics :
1 second constant force device, patented No EP 1528443
Pallet escapement with 15 tooth escape wheel
Two position crown
Power reserve at 1h00
Finish :
High grade
Baseplate partly circular grained
Polished screw heads, chamfered slots
Pegs with polished rounded ends
Case :
Flat turtle shape :

45.2 mm x 37.6 mm

Overall diameter :

7.84 mm
Limited series :
Platinum PT 950: 69 parts
6N gold 18K : 68 parts
Components :
Movement without dial : 249
With box on leather : 281
Jewelry : 32
---
At the heart of the movement
Brevet - EP 1528443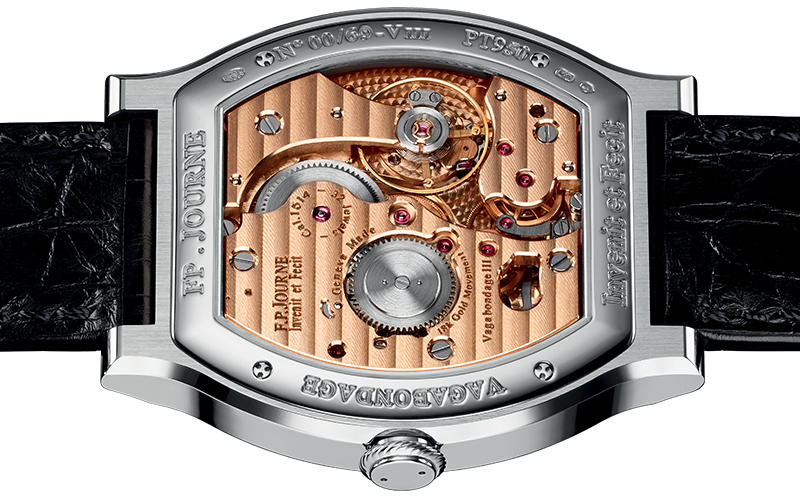 Technical description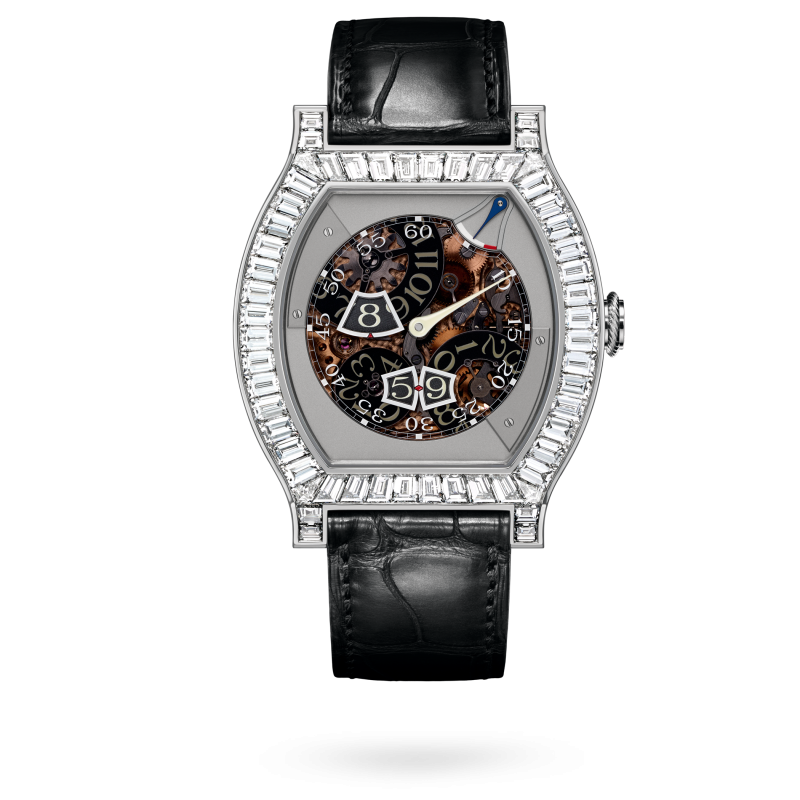 About
Vagabondage III
World Premiere : Digital Jumping Seconds
The Third Edition of the Vagabondage Trilogy
F.P.JOURNE PRESENTED THE THIRD AND LAST EDITION OF THE VAGABONDAGE SERIES, "VAGABONDAGE III", PRODUCED IN A LIMITED SERIES OF 69 PIECES IN PLATINUM, 68 PIECES IN 18K 6N GOLD AND 10 PIECES IN PLATINUM JEWELLERY VERSION. F.P.JOURNE IS THE ONLY MANUFACTORY TO DESIGN AND PRODUCE A SPECIFIC CALIBRE FOR A SERIES LIMITED TO ONLY 147 PIECES.
Let's recall the events leading up to the creation of the Vagabondage, which is the quintessence of anti-marketing. In 2004, François-Paul Journe designed 3 unprecedented new watches with a flat Tortue case (patented model), a digital time display and a dial without signature, for the 30th anniversary of Antiquorum.
Those 3 watches, one in white Gold, one in yellow Gold, and one in rose Gold, with brass movements, were sold at a charity auction for the benefit of ICM, a research institute for brain and spinal cord diseases (
www.icm-institute.org
). The watches captured the interest of the public, and sold for three times the estimate.
VI – Digital Hours
In the wake of the resounding success of that auction, F.P. Journe launched in 2006 the Vagabondage I Series. The name Vagabondage comes from the fact that the time is indicated by a wandering digital display; the design itself was "vagabond" in that it was created by François-Paul Journe as a satellite creation, in addition to his regular collections. This limited series with a flat Tortue ® case is a departure from the round cases generally favoured by the brand. It was produced in a series of 69 examples in Platinum and 10 examples in Platinum set with baguette diamonds, with a manually wound 18K rose Gold movement. Even without promotion or publicity, clients went wild. They snapped them up, and the Vagabondage legend was born.
VII – Digital Jumping Hours and Minutes
The second Vagabondage edition was created in 2010. 69 examples in Platinum, 68 examples in 6N Gold and 10 examples in Platinum with baguette diamonds are produced. It has a manually wound movement with digital display, but also features small seconds at 6h and a power reserve display at 12h. The smoked sapphire crystal dial, without the F.P. Journe signature, reveals the 18 ct. rose gold movement. F.P. Journe developed a specific barrel and a remontoir d'égalité, providing better energy management for the instantaneous jump of the minutes and hours.
VIII – Digital Jumping Hours and Seconds
Collectors have been eagerly awaiting the launch of the Vagabondage III Series. This third edition retains the flat Tortue ® case, the same size as the Vagabondage II, with a manually wound movement with a remontoir d'égalité that advances the time train each second.
The inner smoked sapphire dial, framed by an outer dial with screw-down accents, still without the F.P. Journe signature, reveals the 18K rose gold movement. A window at 10h displays the digital hour indications; another at 6h indicates the digital seconds; both are framed in white. The central minutes are indicated by a white hand, while the power reserve at 1h features a blued steel hand.
THE 3 DIGITAL TIME DISPLAYS HAVE NOW BEEN CREATED, MAKING THE TRILOGY COMPLETE. OWNERS OF THE VAGABONDAGE I AND II WERE GIVEN PRIORITY TO ALLOW THEM TO ACQUIRE THE WATCH WITH THE IDENTICAL LIMITED SERIES NUMBER. COLLECTORS MAY THUS HAVE COMPLETED THEIR OWN TRILOGY AND POSSESS A PART OF F.P.JOURNE HOROLOGICAL HISTORY.
Technical Specifications
Dimensions :
Overall diameter :

29.3 x 28.2 mm

Encasing dimensions :

29.3 x 28.2 mm

Overall height :

5.88 mm

Height of winding system :

2.96 mm

Diameter of stem thread :

S0.90 mm
Balance :
Four inertia weights
Flat Anachron micro flamed spring
Mobile stud holders
Free sprung
Nivatronic laser-welded to collet
Pinned GE stud
Amplitude :
0h dial up: 250°
24h dial up: 250°
Characteristics :
1 second constant force device, patented No EP 1528443
Pallet escapement with 15 tooth escape wheel
Two position crown
Power reserve at 1h00
Finish :
High grade
Baseplate partly circular grained
Polished screw heads, chamfered slots
Pegs with polished rounded ends
Case :
Flat turtle shape :

45.2 mm x 37.6 mm

Overall diameter :

7.84 mm
Limited series :
Platinum PT 950: 69 parts
6N gold 18K : 68 parts
Components :
Movement without dial : 249
With box on leather : 281
Jewelry : 32
---
At the heart of the movement
Brevet - EP 1528443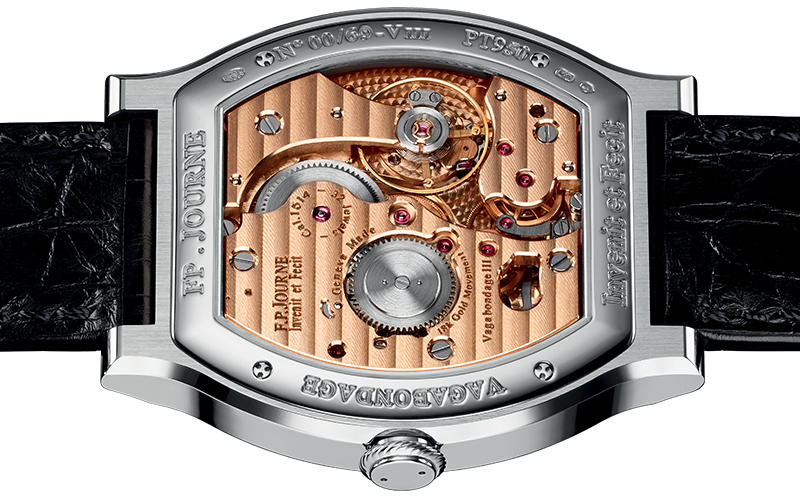 Technical description